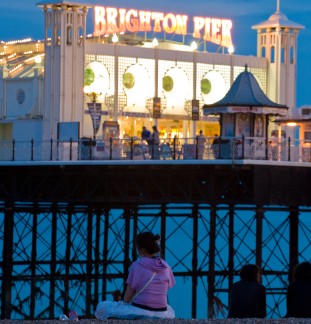 Okay so you've managed to land yourself a date, now what? Here are some ideas of places to go and things to do in the sunny seaside town of Brighton. The You've Pulled team have been busy and have wandered the streets aimlessly researching places to go on your behalf. So if the best idea you've had so far is a stuffed crust pizza down the hut then stop right there and read our magnificent suggestions.
1)     The seaside – Yes it's free and there is plenty of it. Sit on the pebbles with your loved one and look out to sea. Make sure the weather is good and you've got some cold wine to drink. Important notice – pick the right part of the beach as you don't want to pick the wrong part and end up on the nudist beach. You'll be surrounded by fat rotund men or maybe that's what you're into to in which case..carry on.
2)     Go on the pier and win your mate a cuddly toy by playing one of the many games on the pier. For the real romantics you can go to Horatio's bar at the end of the pier and sing your favourite karaoke. This not working for you? Try one of the fairground rides…just make sure you haven't just eaten half a dozen doughnuts before you go on otherwise you maybe sharing a little more than you planned too!
3)     Go watch a film at the Duke of York's cinema – Britain's oldest cinema. Watch an arty subtitled film here and make sure you sit up in the balcony and get a sofa so you can cuddle up and get frisky with your Maltesers. You can take booze in as well so it's just like being at home but with a bigger screen.
4)     Dance the night away in one of the many clubs on the seafront. Get low down and sweaty and dance like its 1999….yep still doing those old rave moves. If the date is going really well then come out and get an early morning cheeseburger at Buddies – a 24 hour restaurant on the beach.
5)     Not very good at telling jokes and making them laugh? Then let someone else do it. Head to the Komedia for some stand up comedy and then grab a drink in one of the trendy pubs in the North lanes of Brighton.
6)     Want something a little more active? Then cycle up to the Devils Dyke on the South Downs with a picnic. Better make it a small one though as its mainly up hill.
7)     Want somewhere romantic? Then try a nice bottle of wine or cocktail in one of the swanky hotels like Hotel Du Vin, Grand, Metropole or MyHotel.
8)     Or if you just want to get down to it and have that dirty weekend in Brighton then book yourself into the 'play room' at the Pelirocco hotel. The room has a pole dancing area so we'll say no more.
Hope these dating tips help and if you're still looking for that elusive person to take out then try dating in Brighton on You've Pulled – online dating and chat for UK singles. Come visit us and join for free today.