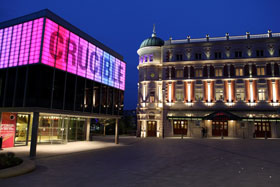 Sheffield is a great place to date if you are young and looking for love. The demographic of the city is heavily weighted towards the 18-24 year old age group and the large population of young people in the area makes the steel city a really vibrant, fun place to be. This area of South Yorkshire is jam packed with students, most of which are heavily into their music and this is why Sheffield has such a rich music scene. If you want to make love blossom in this city, then why not take a look at some of these great dating ideas.
1. Live music. For most students or locals in the area, music is a big part of everyday and with Sheffield's thriving music industry it makes sense to visit one of the many live music venues in the area. If you are both young and into live music then a date to see an up and coming band or even your favourite band is perfect. Sheffield hosts a lot of gigs so there is bound to be someone you can go and see on your date night. Check out The Leadmill for hot up and coming bands, Corporation for alternative bands, The Boardwalk for Blues or Folk music or The Green Room for more folk and some jazz. Other venues include Trippers, The Grapes and the Casbah.
2. If music isn't your bag then why not visit one of Sheffield's many bars and pubs. If you are a student and on a budget then go to Sheffield University's Student Union. Bar One is a great union, full of atmosphere and cheap drinks, you could even go to The Raynor Lounge.
3. If you want something a bit more upmarket then take a stroll on to Division Street or West Street for a wealth of eating and drinking hot spots. For even more options try The Golden Mile on Ecclesall Road. If you're looking for something out of the way of the hustle and bustle of the busy city centre then there are some great little spots in the countryside on the outskirts of the city. For great food and drink in cosy surroundings try Chequers at Froggat Edge, Fox House, The Moorlands at Owler Bar.
4. If you're seeking culture then Sheffield can definitely deliver. The Tudor Square theatre complex is the largest venue outside of London. The Crucible Theatre is a great date night out for theatre lovers or you could catch one of the many sporting events that are held in the venue. The Lyceum Theatre is a slice of pure history, just the building alone is impressive. Sheffield's cultural scene is a sure-fire hit for any date!
5. If you want to take in some romantic surroundings with your date then head straight to Sheffield's Winter Gardens and the Peace Gardens for a stroll. Here you can experience a beautiful moment of nature within the cosmopolitan city, perfect for a first date.
6. If you and your date are the sporty sorts then make your way to either Sheffield's Don Valley Stadium or Sheffield Arena. Here you can enjoy football, rugby, basketball and even ice hockey, a great chance to really get your blood pumping and bond over a love of sport!
7. If a busy city centre isn't your thing or you just want to escape all the hustle and bustle for one night then why not head to the Peak District. Explore the rugged moorland, rolling hills and dales and leafy forests for some of the country's finest scenery; all just a few miles out of the city centre.
Dating in Sheffield never has to be boring again with these great tips, but if you are still struggling to find that perfect someone then why not try dating in Sheffield on You've Pulled- the online dating and chat site for UK singles. Join up free today!