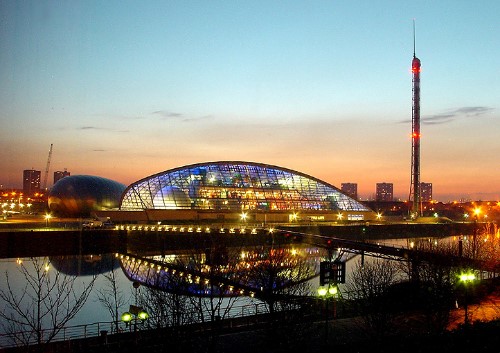 If you're looking for love in Glasgow, it may be possible that you are struggling to obtain that all important second date due to placing too much pressure on yourself. When it comes to a first date, we can fret over what to wear, where to take our date, what to talk about and so forth. As a result, our panic and worries can come across as desperation or even in some cases, even being slightly weird, which will do nothing in enticing our date to join us for the all-important second date.
In order to obtain a second date, it is firstly important to calm down! Remember, you are not alone and your date is likely to be just as nervous as you are. Secondly, if you ensure to plan a fantastic date, you cannot go wrong and you will both have a great time, allowing you to de-stress and simply enjoy the night. Below are a few ideas for a great date in Glasgow for those who are stuck with their own ideas or who are simply eager to obtain a second date with the partner of their dreams.
You can't go wrong with comedy and Glasgow is home to the Jongleurs Comedy Club, the number one comedy venue in Glasgow. This is a great way to break the ice and it will certainly give you something to talk about during the interval with a drink and on the journey home. Located next to the UGC cinema and Alea Glasgow Casino, you can really make a night of it with a refreshing beer and quick bite to eat at Brel after the comedy show, before hitting the slots in the casino and see if either of you get lucky. With so much to do in one location, you are both guaranteed to have a great night.
As one of the largest cities in the UK, Glasgow is filled with glamour, entertainment and a buzzing nightlife-ideal for those somewhat over-expectant dates. The Corinthian Restaurant on Ingram Street is the perfect mix of sophistication, fine wining and dining and stunning architecture. After a delicious meal from either the decadent lunch menu 2-course evening meal, why not venture to the Blue Dog at George Street for a round of delicious cocktails? This can be ideal location to round off your date or even if you have missed dinner, a place to meet up and unwind with one another after a long day at work.
Glasgow is also a great place to enjoy some fun and games, with a myriad of indoor and outdoor activities. The Science Mall at Glasgow Science Centre may not be for everyone, but is a stunning titanium crescent that overlooks Clyde. With a range of exhibits, cafes and shops inside, this could be a great place to spend the day together-especially if you both share an interest in science. For dates who are less enthused about science, the Science Centre is also home to the IMAX theatre, which shows a range of 2D and 3D films. This is a great date location for a rainy day-especially if the weather has dampened your previous plans. For a cheap and cheerful form of fun, why not take the time to stroll throughout Glasgow's stunning city centre, filled with a mixture of old and new architectural buildings. With something to discover on every corner, you can enjoy people watching, sharing stories and stopping off for a quick bite, cup of coffee or glass of wine along the way.
Glasgow is a city of opportunity when it comes to dating with a range of restaurants, bars, clubs, activities and places in which to visit during your date. With so many fantastic places to choose from, you are guaranteed to have not only a great date in Glasgow, but have some help in terms of securing the illusive second date!