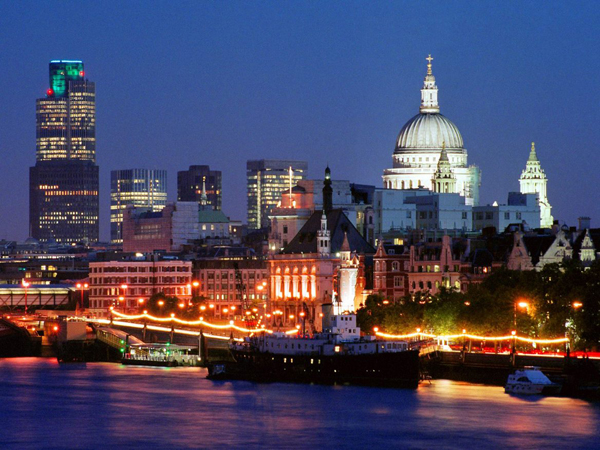 London is thought to be one of the most romantic cities in the world, so it's no wonder that there are plenty of romantic activities available in the capital. London is a great place to be out and about dating as there is a wealth of things to do, so much so that every date can be different to the last! When it comes to the first date, the location is everything and sometimes it can be hard to know where to go; not so in London. The romantic destinations are quite literally endless meaning that you are sure to impress with your choice of venue.
If you are struggling to come up with inventive date locations in the capital city then here are a few ideas to spark your imagination:
1. For the more adventurous daters amongst you, how about taking your date on a cruise on the river Thames. This is definitely different to most date locations so you'll scores points from the start and you'll get to see some of the must-see sights along the way! You can also take a tour of the skyline of London or rent a rowboat and travel down the Serpentine River. Any tour of London is sure to get you both talking and hopefully lead to an unforgettable date.
2. Unsurprisingly, the London Eye is a very popular place for first dates in London. From here you get the very best view of the city possible, perfect for a memorable date. And if you really want to remember it, why not take a photograph of you and your date on the Eye? For added romantic points, time your ride with the sunset and just watch your date melt!
3. London has a great historical feel to it and if you really want to experience all the pomp and ceremony of traditional London town then why not get up close and personal with the royal sights like the Tower of London and Kensington Palace. The Tower of London is known all over the world and is open to the general public for a small fee. If you want to treat your date like royalty why not give them a taste of the real thing!
4. If the sun is shining why not make the most of the good weather and make your way to St. James Park. Couples flock to this park as it is considered by most to be London's most romantic park. This option is simple yet romantic, relaxed enough for plenty of good conversation; perfect for a first date. If alfresco dating is your thing then you can also try the Rose Garden in Regent Park for some beautiful surroundings.
5. For the more intellectual amongst you, you might want to take your date to the British Museum and National Gallery to take a look at some of the impressive art. For an extra dose of culture you could try a trip to the Theatre District to take in a show. This will give you plenty to talk about with your date and provide some really good memories.
6. Dinner is often a good first date option. If you're feeling hungry then you're in luck as London has many a fine restaurant to cater for you and your date's tastes. Top notch restaurants in the city include The Fat Duck, The Capital Restaurant, Le Gavroche, The Dorchester, The Ivy, The Caprice, Axis, Ubon by Nobu and Tamarind. You might even get to do a bit of celeb spotting at these high class hang-outs!
7. If you're young and looking for fun on your date then why not try a nice pub or night club for a few tipples and maybe even some dancing! London boasts plenty of famous clubs including Fabric, Mass and Cargo. If you fancy more of a pub scene then try The Dove, The Bricklayers Arms or The Bull and Gate.
The location of your date will largely depend on what you and your date are into, so as long as both of you are happy then the date should be a success! Hopefully these tips have given you a few ideas for your next date, but if you're still looking for someone special to take out then why not try dating in London on You've Pulled- the online dating and chat site for UK singles. Join free today!