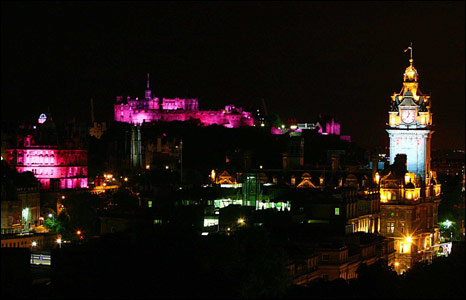 As the capital of Scotland, you can be sure that Edinburgh is a location that is packed full of history, culture, entertainment and a great nightlife. In fact, it is this myriad of positive points that makes Edinburgh a great location in which to date and potentially, find romance.
With a population of almost half a million people, Edinburgh is home to people of all walks of live. This ensures that no matter what your likes or dislikes may be, you are guaranteed to find someone who is perfect for you. What're more, it also ensues that you will find a number of fantastic ideas for a first date which in turn, can help you achieve that all important second date!
Don't Overlook the Natural Beauty: Whether you are born and bred in Edinburgh or new to the city, you will find a number of places to explore which can also make for great date locations. Arthur's Seat consists of seven hills that overlook the city, offering a view of Edinburgh like no other. From here, you will overlook Edinburgh Castle, Old Town and the New Town. An ideal date idea for a Sunday which is guaranteed to work up an appetite, this can open up the opportunity to take your date to one of the many pubs you can find once your way back down, such as the Sheep's Head. After climbing Arthur's Seat, you will both more than deserve a refreshing pint!
Indulge In A Little Arty Culture: Being such a diverse city, Edinburgh is filled with culture, including the National Museum of Scotland and the many art galleries throughout the city, including the Scottish National Portrait Gallery and the modern Fruitmarket Gallery, located on Market Street. For film lovers, the city is home to a number of commercial cinemas, showing the newest blockbusters. However, for fans of old movies, there is also the Cameo that shows both cult classics and new releases. From classics such as My Girl Friday and newer cult classics such as Tarantino's Kill Bill, this is the ideal date location for film buffs.
Don't Forget Festival Season! Edinburgh is host to a number of festivals every year which has helped to make it a popular tourist location. In order to take your date to one of the many festivals held you will need to do prior research, but with festivals held from April all the way through to Christmas, you are guaranteed to make it to at least one! From the Taste of Edinburgh food festival to the Jazz and Blues Festival and the annual Christmas festival, the city boasts an ability to cater for everyone.
Stuff Your Face With Decadent Foods: Home to a myriad of café's, franchise restaurants and bistros, you cannot go wrong with a date in one of the city's fantastic eateries. The Grassmarket, which boasts around 20 different bistros and restaurants, is the place for foodies. From small café's such as Made in Italy, four pubs and some of the best bistros in Edinburgh including Maxies Bistro and Ristorante Gennaro; you will be spoilt for choice in terms of where to go for a quick bite. The Grassmarket is a great location for a date, as it also boasts a number of shops and forms of entertainment to enjoy before or after dinner.
If In Doubt, Do Nothing! Although a successful date can sometimes require thorough planning, do not overlook the benefit of going with the flow. Suggesting a relaxing stroll through the city or many natural landmarks is a great way in which to spend time getting to know one another, without the distraction of wondering what time it is and where you've planned to go next. This way, you can choose to eat when you feel like it and should the weather, the mood or the pace of the date change; you will have a myriad of options available that will ensure your date goes without a hitch. So for dating in Edinburgh check us out.