It's no secret that the phenomenal growth of online dating has largely changed the way that we date – especially the way we meet those people. Of course, we all know the most obvious place to pull is You've Pulled; it's fun, it's convenient and it works! However, cupid can strike his bow at any time and sometimes it's in the places you're least expecting it. Read on to find out You've Pulled's most unlikely places to pull…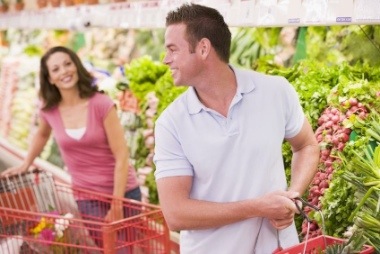 The supermarket – It's that age old cliché of going to the supermarket, reaching for the same bottle of milk or box of Cornflakes, only to lock eyes with one another in isle 6 and realise that you were meant to be. Maybe you'll think twice about popping to the shops in your jogging bottoms and hoody next time.
The gym – Ok so sweating like a pig and hanging off the treadmill is hardly the first place that springs to mind when you think about meeting your potential partner. However, at least you'll know that your date takes pride in what they look like. Also, anyone you meet at the gym will have seen you at your worst already so things can only get better; and that, in our eyes, is always a bonus!
The office – One of the main reasons singles struggle to find the time to date is due to long work hours and hectic schedules. However, what if your love interest has been standing right in front of you the whole time – at the photocopier or by the water cooler? Dating someone you work with can be a bit tricky so just make sure you know what you're getting yourself in to.
Public transport – There's nothing remotely exciting about public transport. In fact, public transport really just serves a way of getting from A to B. However, while you're going about your boring daily commute there's plenty of other people doing exactly the same thing. So next time you're on the platform, clutching your over-priced coffee, have a scout round the platform and see who catches your eye! You never know, your next journey could be an exciting one. Next stop, lovesville!
Walking the dog – Want to know where you can find a caring, loving and down to earth soul? Try your local park- a great place to meet fellow dog walkers and bond over your shared passion for pooches. Allow your common ground (your dogs) to play cupid and start up conversation, then take things from there. NB: Dog required!
Have you ever found love in an unlikely place? Or are there any random places that you think would be great for meeting eligible singles? We'd love to hear from you so leave us a comment below.
Alternatively, don't leave love down to chance and sign up or log in to You've Pulled now and find yourself a date!
Happy Dating
The You've Pulled team