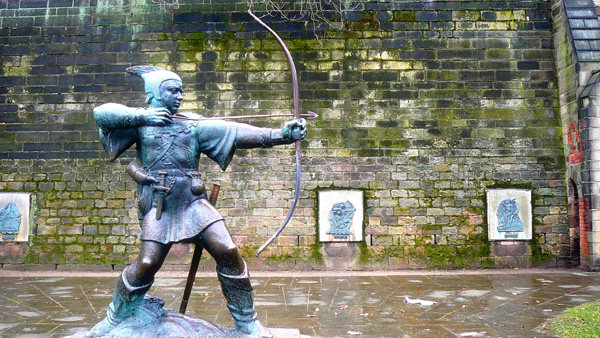 The city of Nottingham has a lot going for it; it's a really lively city, packed full of great dating venues. The best thing about the city is that it is easy to get around with all the best dating spots just a short walk away from each other. If you are dating in the Nottingham area and in need of some ideas how to really impress that special someone, then this guide can get your creative juices flowing.
1. Visit Chapel Quarter. This area is relatively new and is a great place to take your date if you're looking for top notch dating. Chapel Quarter is where all the premier restaurants are located; choose from Loch Fyne, French Living, Zizzi and Pizza Express to name but a few for something for everyone. Chapel Quarter also houses the Playhouse and the Theatre and Concert Hall so you can enjoy an evening of culture as well as some really excellent food.
2. Take your date for a stroll through the historic Lace Market for a really romantic evening. Walk along the nostalgic cobbled streets and take in the stunning architecture and surroundings. While your there make sure you pop in to the deconsecrated Unitarian Church which has now been converted into a popular Pitcher and Piano Bar.
3. If you're looking for something a little out of the ordinary then head to Hockley Village. Often referred to as the 'Soho of Nottingham', this area is home to tow art house cinemas, Broadway Cinema and the Screen Room. Here you can enjoy a night of art and culture, the perfect place to have a cultural conversation with your date.
4. If you want to get away from the hustle and bustle of the city then head to the Castle area. It offers tranquil surroundings all set in the shadow of the iconic Castle. Here you can sample some fine ales in some of the oldest pubs in England such as the Salutation Inn, The Castle and the notorious Ye Old Trip to Jerusalem to name but a few. If you want a more up market dining experience then you are only a street away from the award winning World Service Restaurant where you can treat your date to an á la carte menu of modern British cuisine.
5. For those who like to get involved in the buzz of a city then head to Old Market Square in the heart of Nottingham. Here you can sample the lively atmosphere of the city and choose from a variety of bars and restaurants. For those who know what they like there are plenty of your favourite chain restaurants such as Bella Italia, Slug and Lettuce, Hogs Head, Nandos and Walkabout. There are also a lot of hidden gems to be discovered in this area and plenty of open air events and live concerts to attend.
6. For all you culture vultures out there, make your way to Theatre Square for a night of high-end vibrant culture. Nottingham's Theatre, the Concert Hall and The Cornerhouse are all in one place so the entertainment options are boundless! And, if you're feeling really lucky and the date is going well why not visit the exclusive Alea Casino to find out if your luck is really in!
Now you are armed with plenty of great dating options in Nottingham, all you need is that special date! If you still haven't found that special someone, why not try dating in Nottingham on You've Pulled- the online dating and chat site for UK singles. Join free today!