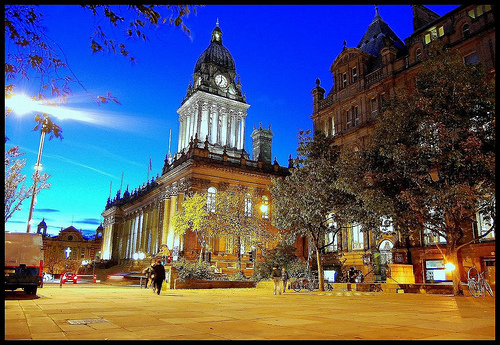 With a population of over 440,000, Leeds is a great place in which to look for love. Studies show that an estimated 25% of the Leeds population is on the look out for a partner so by doing a little research and making yourself known in the dating world; it may not be long till you find your ideal mate. However, in order to be successful in your dating efforts, it is important that you choose some of the best and romantic locations in Leeds to impress your date and hopefully, land a second date!
If your date is someone relatively new to your life, you may struggle to know exactly what their likes and dislikes are. As a result, some of the ideas below may not be for everyone, but they will provide you with a gist as to what you could do for any pending date you have.
Enjoy the Architecture of Leeds
Kirkstall Abbey is one of the most historical and treasured landmarks in England, boasting some great examples of medieval architecture, wildlife and greenery. Not only is the abbey a stunning feature of Leeds, but it is also home to a number of exhibitions and entertainment shows throughout the year including guided tours of the abbey, Shakespeare performances and nature based activities, including Muddy Monkeys. For daytime dates, this is a great place to stroll hand in hand, taking the scenery and getting to know one another.
Get In Touch With Your Inner Farmer
Being in close proximity to the Yorkshire countryside, Leeds is close to one of the main events of the year, the Great Yorkshire Show. Held in July of each year, this is a great place to take a date if you're looking for a somewhat casual yet fun day out. With livestock shows on every day, a luxury buffet lunch and Yorkshire afternoon tea and a fantastic atmosphere throughout the day, this is a typically Yorkshire day out that most dates will enjoy. However, this is maybe not the place to take high-heel loving women!
Embrace the Music!
Leeds is home to a number of great live music venues that play all ranges of music from jazz and flamenco, to rock and chart music. The Wardrobe, located at St. Peter's Square, is a coffee house, come live music bar, come restaurant. Come relax and kick back with a delicious cocktail while you enjoy some of the live music that is presented every week. The performers here vary from week to week so it is beneficial to research into your date's preferred taste in music before purchasing tickets. For a slightly different experience, venture to Carpe Diem, Calverley Street, for a great mixture of live music, live sporting events, great pub-style food and a fantastic atmosphere. This is a great place to for double or group dates as there is something to keep everyone amused.
Let Food Be A Conversation Starter
Like many other cities, Leeds is home to a wide range of fantastic and diverse eateries and restaurants. From traditional English pubs, to Thai, Mandarin, Italian and Indian restaurants; you are guaranteed to find a place to eat that you will both enjoy. For a touch of European cuisine, visit Kendell's Bistro, located opposite the Leeds College of Music in the city centre. Owned by Yorkshire man, Steve Kendell, this decadent bistro offers some delicious French cuisine that is like no other in Leeds. For a truly wowing experience, visit Chino Latino, located on the 1st floor of the Park Plaza hotel in the city centre. If the stunning views of the city from your seat aren't enough to astound you, the restaurant offers a combination of top-class Pan-Asian cuisine and a trendy Latin inspired cocktail bar. With an array of awards under its belt, this is a location sure to impress any date.
Leeds is filled with fantastic places to take your date which are not only guaranteed to ensure you both have a great time, but may also help promise you a potential second date. So, no matter whom your date may be or what their likes or dislikes are; you are guaranteed to find a myriad of ways in which to while away the hours together, get to now one another and potentially find love in the city. Need to find a date in Leeds then check out You've Pulled today.