Looking for your perfect match? These just go to show that it can work for you too! Good Luck!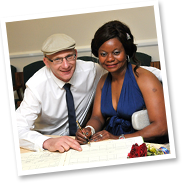 My husband, David and I are so grateful for the website, as without it, we never would have met. We saw each other's profiles and got talking 9 months ago and I'm pleased to say we are now happily married! We started by going on a few dates and it just felt right, the relationship went from strength to strength. After just 5 months, David asked me to marry him and of course I said yes! It wasn't a big wedding, just a small ceremony and it was perfect.
Claire & David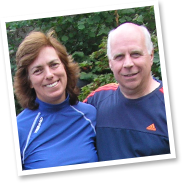 After a few messages, Frank invited me to a restaurant and we got on really well. We decided to go on a second date and he said he'd take me to the seaside. He took my hand and we walked along the beach together. We remained hand in hand for the rest of the day! Since then, we've been canoeing on the River Severn, rowing in Stratford and we're planning on punting on the River Cam at Cambridge soon. We're really enjoying each others company, it's all been wonderful!
Clare & Frank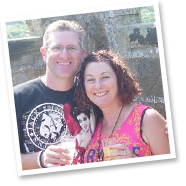 Jayne contacted me first and we sent messages back and forth for a couple of weeks. We had lots in common and got on really well. We decided it would be a good idea to meet and so we had our first date in a local Indian restaurant. The date went well and we had a quick peck goodbye. There have been lots of dates since and we now live together! Our hopes and plans for the future are just to stay together, as happy as we are now.
Jayne & Paul
Register with You've Pulled for free today and you could feature here too!