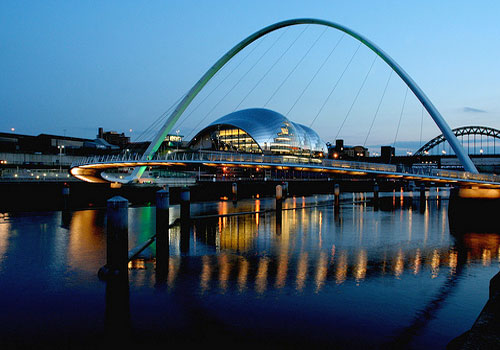 Looking for somewhere different for a first date in Newcastle? Try one of our top 5 places!
1. As You Like It
The wide range of food and drink on offer should entice the fussiest of people and its opulent décor and great ambience will have you coming back time and again.
Spread out over three floors, there's plenty of room for a large number of guests or if the weather permits there's also a garden terrace to enjoy the warm summer evenings.
Check out their calendar before you go as there is often live music – and with the likes of Beverley Knight having performed there, you're sure to impress your date.
Open until 2am on Fridays and Saturdays, there's plenty of time to stay for a meal or pop in for a few drinks and with their delicious list of cocktails, you won't want to leave!
Archbold Terrace, Newcastle upon Tyne, Tyne and Wear, NE2 1DB
2. Lane 7
It's not just about the bowling at Lane 7, as they take pride in the excellent food in their 75 seat restaurant. The menu is heavily focused on American dining with offerings such as hot dogs and burgers, grilled cheese sandwiches, corn dogs and their famous smoked baby back ribs, smoked in their own smokery.
The drinks menu is an interesting mix of cocktails and milkshakes – which come "hard" (with alcohol) or "soft" (without alcohol), so whether you come for lunch or a night out, they have everything covered.
To keep you busy either before or after you've eaten, there are 10 bowling lanes, 4 American pool tables, two ping pong tables, two beer pong tables (yes, you read that right!) and a private karaoke room to choose from so you certainly won't be bored!
There are also a wide range of ever changing activities on offer in their basement including mini golf, big screens and short tennis.
80-90 Saint James' Boulevard, Newcastle upon Tyne, NE1 4BN
3. River Escapes
Based right in the city centre, on Newcastle Quayside next to Gateshead Millennium Bridge, River Escapes offers three different sight-seeing cruises (all with commentary) where you can relax with a drink and/or snack from the on-board bar.
If you are looking for something a bit more lively, then the party nights might be more your style. There are four types of party nights; two include a buffet and one, called a Barbeque Cruise, which speaks for itself!
The party nights set sail from the quayside, travel under the Millennium Bridge, right out to the mouth of the river where you can catch the spectacular views out on deck or party the night away at the disco inside.
So whether you're looking for a quiet date where you can see the sights of Newcastle or you're looking for something a bit more upbeat, River Escapes has something for everyone… If you like boats that is!
East Quayside Pontoon, Newcastle Quayside, Newcastle upon Tyne, NE1 3DX
4. Exit Newcastle
For a totally unusual and quirky date, head over to Exit, a live game situation where groups of 2 or more are locked in a series of rooms with the objective of escaping within an hour.
To find your way out you'll need to complete a variety of challenges and follow a number of clues that direct you through the game which if completed correctly and quickly enough will allow you to find the exit!
This is a date that will make you work together as a team giving you the perfect opportunity to get to know each other and find out how compatible you are.
Games are changed every so often so if you enjoy yourself, keep an eye out to see when new games are added.
67a Westgate Road, Newcastle, NE1 1SG
5. Sage
Located in Gateshead Quays, on the south bank of the river Tyne, Sage is one of the North's best concert venues and centre for musical education.
Hosting concerts from a wide range of internationally famous artists and musicians, from the likes of Badly Drawn Boy to Gladys Knight, from Lord of the Dance to Diversity, there's sure to be something you want to see!
Sage also plays host to a number of music workshops so why not learn a new instrument or be a part of a choir for a day – jump in and try something new!
Saint Mary's Square, Gateshead Quays, Gateshead NE8 2JR
So register for free with You've Pulled today and find someone to check out these places with!