YOU'VE PULLED!  – First date has finally arrived and the pressure is on!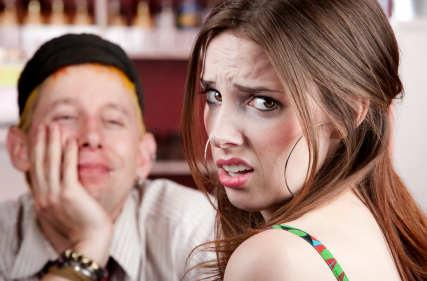 Here are our top DO'S and DON'T's to get you to that second date.
DO        Make sure you shower, wash your hair and MAKE sure you brush your                            teeth, nothing worse than turning up for your first date and stinking like you                      have not washed in the last 3 weeks!!
DON'T  Over do it! Over powering someone with too much aftershave / perfume is                      enough to make them sick and head for the door.
 DO       Compliment them on their appearance – Just a little remark on how nice they                   look could be a good little ice breaker.
DON'T    Ask if their wearing underwear, that's one question that's a little too far and to                  be honest will destroy your chances of finding out!
DO         Say if you want to see your date again
DON'T   SAY 'I love you, do you love me' on the first date. That's one way you'll see                      them running for the door faster than Usain Bolt!
DO         Ask questions and listen
DON'T    Sit there and talk about yourself all night, ignoring your date is down right                        boring and RUDE!
DO          Make sure you go to the right place, which could be a Café, Restaurant or pub
DON'T    Take her to a football match or round your mate's house!
DON'T    Get Drunk
DON'T    Mention your EX
DON'T    Bring along a friend, that's just weird!
DON'T    Talk about marriage, babies, That's even more weird!
And finally
Just have fun!!!
 If none of this works and you still need a date, then join You've Pulled for free