Here's Anna, You've Pulled's member of the month for October. Anna is a fun, intelligent, outgoing person who is very family orientated and would try anything once, apart from a parachute jump…so I think we can rule out bungee-jumping and sky-diving as well.
Anna says she is very cautious when choosing her man but as she says…she has to be and we agree. Men must be snapping at her heels constantly! Anna says once she gets to know her man there is never a dull moment and life with her is spontaneous and exciting.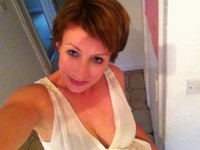 Anna is also a swimming instructor and coaches a netball team. She is also very into her horses having spent 14 years with them. She is ideally looking for someone who is level headed, quick witted, knows how to look after himself and knows how to treat a lady in a relationship. She isn't into her flutters of lust so any men looking to learn how to do the backstroke properly and not just a pathetic doggy paddle why not send her a message?
Either sign up to You've Pulled or log in to your account and say 'Alright There'… Our member of the month is waiting to hear from you!