It's that time of the year again; time to start making resolutions that will ensure the coming year is even better than the last one. If you're stuck in a dating rut then now is the perfect time to start thinking about how you can make some positive changes to your love life this year. Here are You've Pulled's top resolutions to make you a better dater in 2013.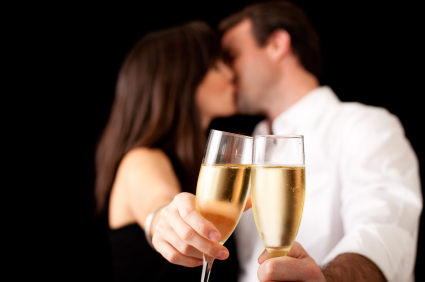 Let go of any baggage – Don't go into the New Year harbouring bad feelings from past relationships. We've all dated someone who wasn't right for us or suffered a broken heart at some point. However, now is the time to put anything that has happened previously down to experience, and learn from it. So stop wasting time on old feelings and remember the quote, 'love like you've never been hurt'.
Change your outlook – If you've been single for a while it can be all too easy to have a 'poor old me' attitude and start to question 'what's wrong with me'. However, just because you haven't got a partner doesn't mean you're any less attractive, clever or successful than anyone else. So change your outlook from negative to positive because when you take the steps to get clear on what you want, and be the most confident (and happy) version of yourself, you will be on your way to finding that perfect person.
Take up a new hobby – If you're passionate about something or fancy learning a new skill then the New Year is the perfect time. By taking up a new hobby or enrolling in a class you'll not only be doing something you love, but you'll also have the opportunity to meet lots of new people. Best of all, if you do meet anyone you'll already have one thing in common.
Change your routine – It may sound silly but even making small changes to your daily routine could lead to new love. Think about it; if you take the same route to work every day, buy your coffee in the same shop and go to the same bars, you're probably going to meet the same types of people. However, by making simple changes to your routine you're effectively changing the types of people you're coming in contact with and you never know, you might just meet the person of your dreams.
Say 'Yes' to more dates – Sometimes we dismiss people too easily because they haven't got the right look, we don't have enough things in common with them or simply because we can't be bothered. However, if you're serious about finding someone maybe it's time to let go of your 'type', stop thinking of reasons why you can't date someone and just say yes. The more dates you go on the more you'll realise exactly what it is you do want. Besides, you'll have lots of fun along the way.
Get online – If you put your love life on hold last year because you were too busy with other things then why not make this year the year for finding love. Online dating makes it so much easier to find love and arrange dates in-between your hectic schedule. You can browse, find and chat to other singles on your commute to work, on your lunch and in-between going to the gym and cooking your dinner, so there really is no excuse. What's more, right now you can receive 50% off 1 months' membership with offer code BRINGON2013*.
So what are you waiting for? Get the New Year off to a great start by making some dating resolutions that count. Who knows what could happen in 2013?
*Offer ends on Jan 6th 2013 at midnight. You will be re-billed at the standard price of 1 months' membership unless you cancel your membership.