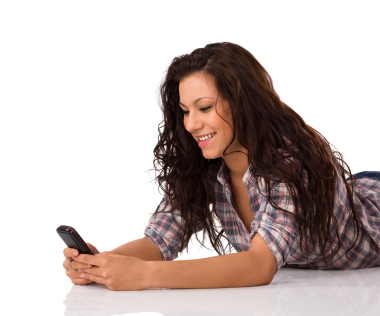 If your busy schedule does not allow you to have long conversations on the phone with potential dates, then you should try text dating. Text dating is a lot less time-consuming than phone dating, but it can give you the same results if it is done the right way. Here are some tips that can help you text date successfully on your mobile:
Be Different
Many people like to "play it cool" when they are talking to new friends or potential love interests, but it does not work with everybody. Playing it cool means that you are not getting straight to the point, and it can slow down the progress of relationships. Instead of doing what most people are doing, you should try to be different. If you are interested in someone, it is best that you text him or her right away. It is important that you let your potential dates know that you are keen initially, and you can play it cool after their guard is down.
Send Messages on One-for-One Basis
Try not to send more messages than you receive. If you send a message and do not receive a reply after a day or two, do not panic. Everybody has their own lives to live and things to do. The people you send messages to may be busy with work or have other important things to attend to, and they need more time to reply your messages. If you are getting more messages than you are sending out, it is a sign that things are going well.
Avoid Text-Speak
While it is common for people to use short hand when writing text messages, it is best that you use full sentences when you are communicating with your potential romantic interests. It will show that you are sincere, and you want to make sure that they get the full meaning of every message you send to them.
Get to the Point
All the text messages you send should achieve something specific. If you want to arrange a meeting with someone, you should let him or her know your intention, but try to ask in a creative way. If you send too many pointless messages, you will just end up becoming his or her text buddy.
Do Not Rush In
When you ask your potential love interests to go out on a date with you, it is not a good idea to ask them directly. Instead, ask questions that will lead to the invitation. For instance, if you want to have dinner with them, ask them to name their favorite food and suggest visiting a restaurant that serves that kind of food.
Keep Things in Context
Follow the rules and etiquette of text dating, and stay focused on your goal. Every message you send should bring you closer to the realization of that goal. Write messages that are short, fun, and sweet, and do not feel stressed over late replies. As long as your potential dates keep sending messages to you, it means that you are still on their minds, and you still have a chance to win their hearts.